Kids playing in Media Center
Stories can conquer fear, you know. They can make the heart bigger.
Ben Okri
State of the Library, 2016-2017
Check Out my Blog to see what we've been reading: http://meredithlynch.edublogs.org/
Access our catalogue here: Destiny
Help your students find a "Just right" book at Bookadventure.com!
Upcoming Fourth and Fifth Graders interested in Battle of the Books: See the NC School Library Media Association website for more information about the books for the 2017-2018 Battle of the Books competition. Start reading this summer and see Mrs. Lynch in the Fall! Click the image for more information: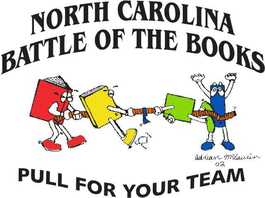 If you are interested in Battle of the Books, 2017-2018, Click Here
For more links, click on the Links tab above!